PARC CLEMATIS
LAST UPDATED: 2nd December 2023
– Latest Sold Unit: #12-52 Just Sold! on 20-Sept | See Balance Units Chart here –
Parc Clematis was bought over by Sing-Haiyi Group. The purchase was at a whopping sum of $840.9 million. The land cost worked out to $850psf/ per plot ratio. This Clement condo was successfully bought over after two failed attempts. The former name was Park West.
Park Clematis stood on a land size of 633,644 square feet with a 2.1 plot ratio. The tenure of the lease was extended back to 99 years from the original 8 March 1982. Park Clematis is centrally situated near Clementi MRT Station. Therefore it is one station to Jurong East MRT Station and 2 stations to Buona Vista MRT Station. Parc Clematis location is accessible to two big workforce area namely Jurong East Commerical Centre and Buona Vista Biopolis Cluster.
Parc Clematis Price List updates available.
Parc Clematis Developer
Sing Haiyi Group has grown and diversified its business into property investment, management services and development. The Group embarked successfully into retail and commercial segments and beyond Asia.

The Group registered as Futuristic Image Builder Limited with SGX in 2002. They started investing aggressively in Malaysia's retail malls and acquired Park Mall at 9 Penang Road.
Sing Haiyi has acquired victoriously recently for 3 plots of land through enbloc. For instance, Park West (Parc Clematis), How Sun Park (The Lilium) and Sun Rosier (The Gazania).
Parc Clematis Location Map
Parc Clematis is setting foot into Clementi Town as the newest private condominium . Its position is along 2 to 20 Jalan Lempeng. This location is near to Clementi MRT Station. Parc Clementis site is at the junction of Clementi Avenue 6 and Ayer Raja Expressway. Parc Clematis condo is built opposite Faber landed house cluster.
Parc Clematis is positioned close to Jurong Commercial Hub. It is one of the biggest commercial areas outside the Central Business District. It provides a wide mix of lifestyle, retail options and International Business Park options. There are a cluster of medical facilities nearby such as Jurong Community Hospital, Ng Teng Fong General Hospital and Vision Exchange Medical Suites.
More on Parc Clementis location map here.
Parc Clematis Show Flat
Parc Clematis Show Flat is at the site on 2 Jalan Lempeng Singapore 128793. It is approximately 700 metre to Clementi Integrated Transport Hub.
The Parc Clementis offers a variety of bedroom type ranging from 1 bedroom to 5 bedroom. It has 18 units of strata landed homes. Parc Clematis bedroom range from 452 – 3,832 square feet.
Parc Clematis has a North-South direction facing in almost all towers. High quality finishes and regular layout are the attraction. See to believe in the quality provided in Parc Clematis show flat.
No commission charged. Full Direct Developer Price & Discounts extended. More details on Parc Clematis, do chat with us.
Parc Clematis
Rare new development in the West – Parc Clematis is situated in District 5. It was Park West and occupied a huge land size of 633,644 square feet. Sing Haiyi Group Limited is the developer for Parc Clematis. They are with Singapore Listed Company (SGX).
Parc Clematis offered around 400,000 square feet of space for communal purpose and the facilities into 6 zones. There are 9 blocks of tower with 1,450 condo units and 8 strata terraces, 4 strata corner terraces and 6 strata bungalows.
Parc Clematis site plan defined the recreation zones clearly.
Parc Clematis Condo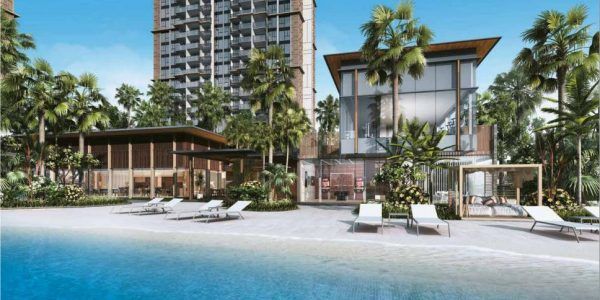 Parc Clematis is sectioned into 4 different style, Contemporary, Signature, Elegance and Masterpiece. A grey monochromatic and ultra modern futuristic are offering to the 4 towers. As for Signature, it offered a sophisticated appearance to 2 towers. Elegance theme is rich in Asian culture design to 3 towers. The strata landed homes are in Masterpiece style.
Space within Parc Clematis floorplan is efficient with a range of 1 – 5 Bedroom and Parc Clematis TOP is expecting around 1 September 2023. Parc Clematis Price List guide is available.
Parc Clematis is a brand new condominium development, which is proudly developed by SingHaiYi Group in District 05 located in Jalan Lempeng, the junction of AYE and Clementi Avenue 6. This brand new condo development has a site area of a plot ratio of 2.1 and 633,644 Square feet and it will embody nine towers with 24 storeys each. Parc Clematis will have 1468 units in total, however, 6 units of 2 storey portion bungalow and 12 units of 2 storeys are semi-detached. The development will have a range from 1 bedroom to 5 bedroom units. Towers of Parc Clematis are tilted toward north-south in order to avoid the sun to direct facing west units.
Parc Clematis Condo is also known as former park west condominium. Former Park West Condo holds up 99 years lease, which starts from 1982 and onwards consists of a plot ratio of 2.1. This former park west Condominium development will be one of the aspiring condominium development as it will close to many popular amenities. This development has its own unique design and features that will enhance its value much more. The Parc Clematis Condo will provide basic as well as luxury facilities to its residents, everything you need would be available.
The Parc Clematis location would be the prime destination for residents as it has proximity to educational institutes, shopping malls, groceries, eateries, secondary schools, transportation hubs, and medical hubs. The Parc Clematis is also close to Clementi MRT Station and other bus interchanges. some amenities have walking distance from The Parc Clematis.
Parc Clematis developer is well-known property developers and investors and a husband-wife duo named SingHaiYi Group. The SingHaiYi Group has a diversified real estate business and the fastest growing property players of this era. Parc Clematis developer also won several awards and also involved in property investment and property development across different countries such as United States, Australia, and Singapore. The SingHaiYi Group have already delivered quality real estate and expect many more in the near future. Parc Clematis developer Sing-Haiyi Gold Pte Ltd bought the Parc Clematis land for $840.90 million, moreover, there is approximately $290.6 million lease upgrading premium cost which leads to further $850 psf ppr.
Amenities Proximity to Parc Clematis:
Parc Clematis is situated in a private area apposite to Faber landed house area, there are several amenities around this area such as Clementi Mall, City Vibes, 321 Clementi, and Wet & Dry market with Hawker centre. Parc Clematis Condo is near to many prestigious schools and other educational institutions like Pei Tong Primary School, Nan Hua Primary School, Clementi Primary & Secondary School, ACS (I), NUS High School, United World College, Singapore Polytechnic, Ngee Ann Polytechnic and The National University of Singapore.
Parc Clematis Condo has proximity to Ayer Rajah Expressway, Pan Island Expressway, and Bukit Timah Expressway for accessibility to any part of Singapore. This development is also near to Clementi MRT station on the East-West MRT line. Clementi bus station is close to Parc Clematis, moreover, this condo development is directly accessible to Raffles Place and City Hall MRT Interchange. MRT Station will have easy access to future Jurong Lake District and many other amenities. Parc Clematis transportation hubs are easily accessible to many places. You can also spend some fun time with your family and friends at Westgate, Jem, Jcube & IMM shopping malls.
Parc Clematis Condominium development is near to Singapore's second major CBD in Buona Vista and Jurong East commercial- central business district. Buona Vista is a research and technology development centre that provide residences to tenants such as P&G and shell who has their offices near. Moreover, Jurong is a favourable commercial centre residing the International Business Park, Westgate, JEM. Clementi residents will enjoy future job opportunities and other amenities due to proximity. The Parc Clematis development will be the promising condominium in Clementi in the near future because of its continuous development as it has proximity to Clementi MRT station that will lead you to various city suites and other places.
Parc Clematis Clementi has proximity to various health and medical hubs. The Parc Clematis condo is a drive distance away from National University Hospital, Ng Teng Feng Hospital and Jurong Medical Centre. This development is the most anticipated launch of this year because of its location, site area, features and proximity to amenities. All the good and popular medical hubs and hospitals are close to the Parc Clematis Clementi.
Parc Clematis Condo development will have 3 Gates for different entrance, 1st main entrance Gate will be next to Jalan Lempeng, 2nd pedestrians gate is along the Jalan Lempeng which is right in front of The Trilinq condominium. The 3rd and last side gate are situated along Clementi Avenue 6 which is connected to the bus stop. This Parc Clematis Secondary gate has 8 to 9 mins walking distance to Clementi MRT station and Clementi Mall.
Parc Clematis towers 1st storey portrays the landscape area so that it allows 2nd storey strata to overlook the cluster of landed area. Tower blocks have residential units of different styles from 1 bedroom apartments to 5 bedroom apartments, from penthouses to Bungalows. The 4 towers are situated at the south of this site which consists of 1 to 4 bedroom apartments, in the middle of the site there are 3 tower blocks with 2 to 5 bedroom apartments and penthouses. However, the north of this site have two blocks of the Parc Clematis condo will have premium quality 3 to 5 bedroom apartments with a wide area for balconies. Parc Clematis will have a wide range of condo styles according to residents needs.
The Parc Clematis has a tremendous view from its terrace and surroundings are covered with lush green trees. This condo development is a unique piece of land which is also close to nature parks and natural reserves, residents will get the serene and tranquil environment to laid back and enjoy the nature. This area will provide the proper ratio of sun and air to enter the residences for a fresh environment. Parc Clematis is a worth investment now and in future, its value will be increased due to the increase of several amenities near this area.
Major Selling Points of Parc Clematis:
• Parc Clematis Condo is the highly expected new launch of this year in Clementi with a bundle of facilities.
• Rare condominium development in this area within walking to several extensive places.
• It has8 to 9 mins of walking distance to Clementi MRT Stations, shopping mall, and secondary school.
• Proximity to many good prestigious schools within one km of distance such as NAN HUA PRIMARY SCHOOL & PEI TONG PRIMARY SCHOOL.
• Substantial transportation hubs with extensive roads are right next to Parc Clematis.
• Moreover, three extensive gates in three opposite dimension will serve different purposes.
• Besides, there is a proper ventilation system is available throughout the residences.
• Proximity to various medical hubs and hospitals to handle emergencies.
• The Parc Clematis is a high-end area with a calm and serene environment.
•Parc Clematis is Surrounded by a lush green natural tree and natural reserves.
• In addition, there are many picnic spot and conventional parks to enjoy your holiday with family.
• Residents can get a gymnasium and yoga deck facility to keep them fit and healthy.
• Many groceries are right next to Parc Clematis.
• Kids play area and kids pools are also available.
• Residents can get access to the barbecue area to enjoy with family and friends.
• Parc Clematis would like to offer premium facilities for members.
• Delicate interiors and quality fittings and bathrooms.
• Moreover, the masterpiece collection of residences includes 12 terrace houses and 6 Bungalows.
• Parc Clematis layout design is very thaught full according to weather as it prevents the direct sunlight incoming and improves monsoon wind incoming.
• Smart home appliances system will be available for residents.
• Spacious kitchens are provided with Electrolux chimneys.
• The Parc Clematis would like to enhance its existing features in near feature according to demand.
Parc Clematis Project Details:
Project details of Parc Clematis Condo development are given below:
PROJECT NAME Parc Clematis
ADDRESS 2 Jalan Lempeng Singapore 128793
DEVELOPER SingHaiYi Gold Pte Ltd
DEVELOPER SALES HOTLINE (+65) 6100-0800
TENURE 99 Years Leasehold
DISTRICT D05
SITE AREA 633,644 Sq ft
NUMBER OF BLOCKS 9 towers
NUMBER OF STOREYS 24 storeys in each block
UNIT TYPES 1-Bedroom apartments, 2-Bedroom apartments, 3-Bedroom apartments, 4-Bedroom apartments, 5-Bedroom apartment, Penthouses, Corner Terrace, Terrace, Bungalows
NO. OF UNITS 1468 Units
NO. OF CARPARK LOTS 1468 Lots
EXPECTED TOP DATE 2023
Unit size and Prices:
UNITS UNIT SIZE UNIT PRICES
1 bedroom apartments 452-710 Sq ft $847,000-$853,000
2 bedroom apartments 689-893 Sq ft $1,045,000-$1,297,000
2 bedroom units with Dual Key 670-861 Sq ft $1,187,000-$1,261,000
2 bedroom + Study apartments 742 Sq ft $1,183,000-$1,267,000
3 bedroom apartments 861-1,076 Sqft $1,317,000-$1,542,000
3 bedroom apartments Dual Key 969-1,216 Sqft $1,569,000-$1,708,000
3 bedroom Premium apartments 1,044-1,259 Sqft $1,639,000-$2,231,000
4 bedroom apartments 1,238-1,475 Sqft $1,968,000-$2,118,000
4 bedroom Premium apartments 1,292-1,744 Sqft $2,001,000-$2,629,000
5 bedroom apartments 1,636-1,970 Sqft –
5 bedroom Premium apartments 1,712-1,981 Sqft $2,608,000-$2,871,000
Penthouses 1,991-2,670 Sqft $2,657,888-$2,803,888
Corner Terrace 3,466 Sq ft –
Terrace 2,659 Sq ft –
Bungalow 3,832 Sq ft $3,931,888-$4,008,888
Facilities Offered By Parc Clematis:
• 24 hours security is available at Parc Clematis so that residents can get a secure environment.
• Yoga decks are also located along with other facilities to freshen up your whole day.
• Gymnasium and fitness room are available for residents to balance work and a healthy lifestyle.
• Kids Playground and tennis court are there to get leisure activities for your kids.
• The multipurpose hall is provided for large gatherings.
• Private Car park facility is provided to residents
•Parc Clematis offers Dining Pavilion for family friends gathering.
• Study lounge for study in a peaceful environment and enjoy reading.
• Extensive Beach-inspired pools are available that are set up like beach to create that environment.
• Grand jacuzzies are there to enjoy with friends and family.
• Event pavilions are embellished for several communal events or large celebrations.
• Communal kitchen space and mega dining halls to enjoy cooking with neighbours.
• Spa and steam rooms for relaxation and to decrease work-life stress.
•Residents can get a Multi-purpose Game room to enjoy several games of your choice.
• Parc Clematis is next to NAN HUA PRIMARY SCHOOL.
• Close to Clementi MRT Station and Clementi mall is one of the major facility for Parc Clematis residents.
• There will be incredible serene places for chillout.
No doubt this would be an efficient and profitable investment as we have discussed all the nearby amenities, facilities and other major developing points. Parc Clematis must be a unique condo development because of its location, area, modular design, Parc Clematis site plan, and floor plan. This latest condominium development has space for every individual according to their needs, whether it is a professional individual, couple, small family or large family all can fit in this condo. People have different interests and different likings, Parc Clematis is designed thoughtfully according to different interests and liking have different unit sizes based on your preferences.
In the end, based on the above discussion we conclude that Parc Clematis residents can enjoy the basic as well as luxury facilities to live a desirable life. you can enjoy the private space at Clematis with all the nearby amenities and facilities.
you can get the Parc Clematis showflat appointment officially and have a close look to this glorious and incredible site, Parc Clematis is located near Clementi mall and Clementi MRT Station.
Grab An Appointment
To visit Parc Clematis Showflat plus Get VVIP Max Discounts (Solely For Limited Time Period), Developer Best Price & Printed Hard-copy Brochure.
OR
Fill in the form and get the Parc Clematis Price, a copy of E-Brochure and the Latest News Release Updates!
No Spams allowed.